Rutherglen Triathlon
The Rutherglen Triathlon will be held on Sunday 12th March 2017 at the Rutherglen Pool.
In its 20th year the triathlon is a community event that is on same weekend as the gourmet event the Tastes of Rutherglen.
It consists of two events: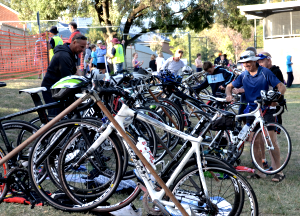 The Long Distance Event comprises a 1.5Km run, 22Km ride, 200m Pool swim and finishes with a 3.5Km run
The Short Distance Event (Junior and Back of the Pack events) comprises a 10Km ride, 200m pool swim and a 3.5Km run. It is designed for the younger participant. The Back of the Pack event is the most popular category and is for adults wanting to complete the shorter event. The team event is for families (eg mum, dad and child) who want to compete together.

There are numerous categories in each event including both individual and team events and has over $2000 in cash and prizes.
This year we are including a club team category in the senior event where clubs (sporting and non-sporting) can compete against each other for a perpetual trophy.
All events are supervised by the local SES, Police and Rotary.
For further details including catrergories, location, rules and online entry etc click here.